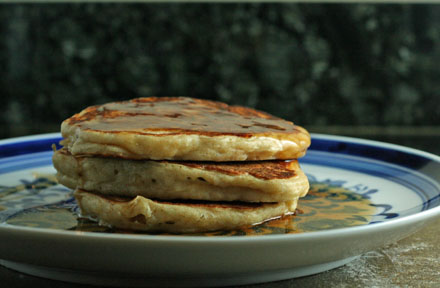 Breakfast has always been my favorite meal. Well, that is until dessert came along, but please don't tell breakfast. Most mornings I wake up and make scrambled eggs before work because to be completely honest, cereal just doesn't do the trick. Some may think I would get sick of scrambled eggs after eating them every single weekday. But I guess it is one of those habits that has stuck with me. Things just feel off when I don't eat eggs for breakfast. I am so stuck in my breakfast routine that I have actually sacrificed punctuality on occasion and raced to work to make it in a somewhat−though usually not quite−timely manner. Thank goodness I have worked at companies that are flexible in that way.

The weekends are a different story. Brunch is one of my favorite meals and I love waking up on a Saturday or Sunday, flipping on the news, and making a delicious breakfast. I usually drag A to a DC brunch on the other weekend morning because sometimes you just need a mimosa. Oftentimes, A will wake me up before it is light outside and want to know what we are doing for breakfast. Okay, I am being dramatic. Maybe it isn't the crack of dawn but really, waking up anytime before 8 am on the weekend should just be illegal. Or, if you choose to wake up that early, you should kindly allow your fiance and adorable dog to sleep a bit longer…until say, 9 am. We promise you will not be sorry.
These pancakes have been making the rounds in our house tiny DC apartment lately. I usually have most of the ingredients on hand, and I always have bananas on the counter that are beginning to look less than stellar and just begging to be incorporated in something fab. While the prep in this recipe is a little more laborious than the pancake mix + egg + oil model, the end result is oh so worth it. And I love a banana baked good. You can also use other fruits such as apples, blueberries, blackberries, or anything that you have on hand. I am dying to try chocolate chips one morning. Yep, there goes the sweet tooth talking!
It looks like a smiley face right?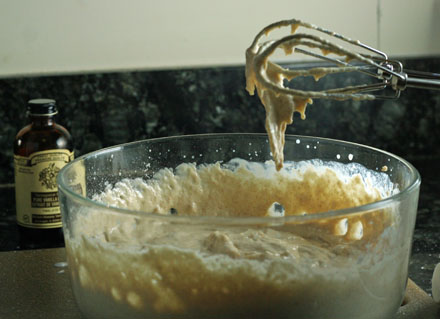 Enjoy the weekend and don't forget the bacon and fresh squeezed orange juice to round out this delicious morning meal (or try "breakfast for dinner!"). On my agenda this weekend? Mixing the dry ingredients to have at the ready. I'm becoming so time efficient, right?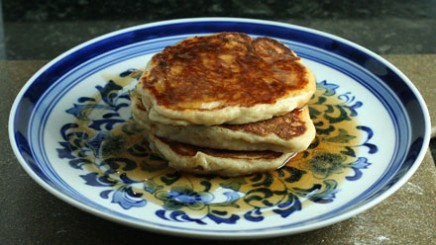 Banana Pancakes
Serves 4
1 1/2 cups all purpose flour
1/2 cup whole wheat flour
1 tsp. salt
1 Tbsp. sugar
4 tsp. baking powder
1 1/2 tsp. vanilla extract
1 1/2 cups milk
2 eggs
1/2 cup greek yogurt
2 Tbsp. butter, melted
2 ripe bananas, cut into bite size pieces
2 Tbsp. butter
1 Tbsp. maple syrup
Heat 2 tablespoons butter over medium heat. When butter begins to bubble, add pieces of banana. Cook until bananas begin to soften and brown slightly. Add maple syrup and cook for a few minutes until bananas begin to caramelize and are soft but not too mushy. Set aside.
Sift the dry ingredients together and set aside.
Combine the eggs, milk, vanilla extract, and yogurt in a mixing bowl. Beat at a medium to high speed until mixtures looks frothy. Reduce speed to low and slowly add the dry ingredients until the large lumps disappear. There should still be some lumps in batter.
Gently blend in the remaining 2 tablespoons of melted butter and cooked bananas until incorporated.
Heat a heavy pan over medium-high heat. Butter or oil (canola or vegetable please) the pan. Make sure the pan is hot, hot, hot. Test to make sure the pan is hot enough by placing a small drop of batter on the pan. If it bubbles then it is hot enough. If not, then wait a few more minutes until your temperature is just right.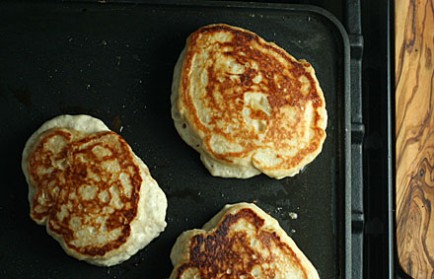 Drop about 1/3 cup full of the batter (or a soup ladle full) onto the hot pan. Repeat with until pan is comfortably full but pancakes are not touching (my square griddler fits about 4 pancakes). When you start to see large bubbles, flip your pancake. This usually takes about 2-3 minutes. Cook for another 2-3 minutes. Once pancake is cooked, transfer to a plate and serve with warm maple syrup and better.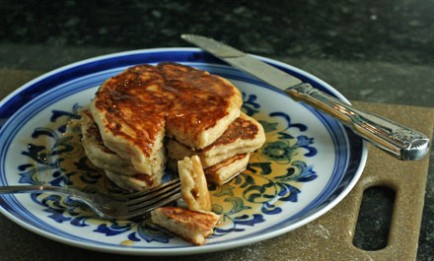 Maple syrup tip: I like to combine my maple syrup in a small saucepan (or microwave proof bowl) with a touch of butter. Heat the saucepan or pop in the microwave for about 20 seconds until syrup is warm and better is melted.