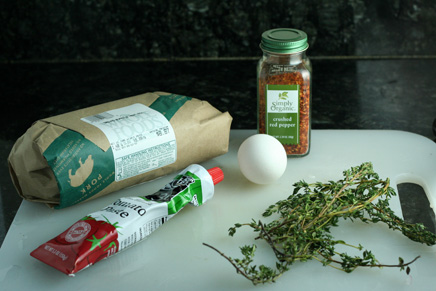 I don't really remember eating meatloaf growing up. In fact, I feel like meatloaf has gotten a bad rap for all of these years. Maybe because it can be synonymous with cafeteria food or because it was always featured looking plastic-y and dry on 1950's t.v. dinners (sort of like Salsbury Steak right? Blech). Or maybe because it looks like brown mystery meat. Whatever the reason is irrelevant. Meatloaf seems to really be making a resurgence lately with the upscale comfort food craze. And I'm right there actively participating in the comfort food deliciousness.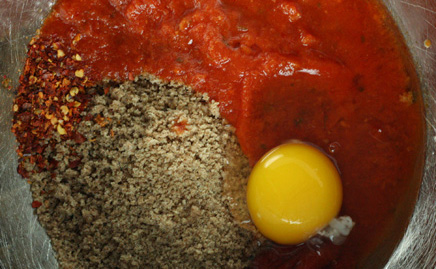 I noticed this recipe in Bon Appetit a while back and have been tweaking it ever since. I became obsessed with buffalo (also called "bison") while living in Texas. My absolute favorite grocery store on the planet, Central Market (on Lovers Lane in Dallas…oohhh how I miss thee), carried several different cuts of buffalo from ground to strip to petite filet. I began subbing it for beef in most of my recipes after reading about all of the health benefits. Did you know? Buffalo is leaner than almost all other red meats. In fact, it is much leaner than turkey, chicken, and even some fish. It also has a ton of protein (40% more than beef). It looks and tastes just like beef but lacks all of the greasiness. Plus, A has no clue that what we are eating looks like beef but is so much better for us. And the boy grew up around cattle ranches!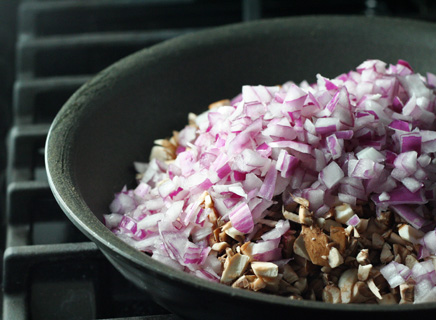 The catch is that because it is an extremely lean meat, it can easily dry out. I have never had this problem, but I hear that it happens. I am skeptical but take precautions while cooking.
I started making this meatloaf when I craved comfort food but needed something "healthy" or at least healthier than what normally comes to mind when thinking of comfort food. I doubled the recipe during A's 2nd year law school exams and he loved it so much that he ate leftovers for breakfast the next morning (brain food before an exam). He ended up getting an A (the grade?not his name) which I obviously credited to the meatloaf. Every semester after that, he requested the "lucky meatloaf" during exam time. The moral of the story? Not only is this meatloaf lucky, but it is also delicious, flavorful, AND healthy!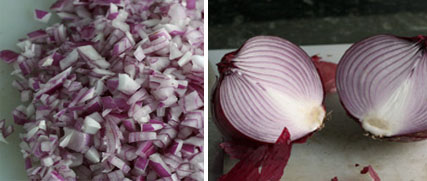 Buffalo is sold at specialty stores such as Whole Foods, some local farmer's markets, and online at retailers such as Dartagnan. I have also ordered from Gunpowder Bison in Maryland. If you can't find buffalo, you can certainly substitute an organic, grass-fed beef that is very lean. But I highly recommend ordering it online and giving it a try! You will probably become hooked. I'm just sayin'.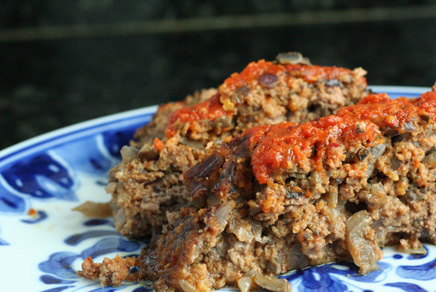 Buffalo Meatloaf
Inspired by Bon Appetit
(Serves 4 but is best for 2 with a little extra for leftover sandwiches for breakfast or lunch the next day)
8 ounces baby bella mushrooms, chopped
1 medium red onion, diced
2 tablespoons olive oil
1.5 tablespoons fresh thyme, chopped
1.5 tablespoons fresh sage, chopped
1/2 cup panko bread crumbs
1.5 pounds ground bison
1 cup tomato sauce
2 tablespoons tomato paste
1/4 cup milk
1 extra large egg
1 tablespoon crushed red pepper flakes
1/2 teaspoon salt
1/2 teaspoon pepper
Preheat oven to 375 degrees.
Heat olive oil in a medium pan. Saute diced mushrooms and onions until onions are soft and mushrooms are browned, about 5 to 7 minutes. Turn off the heat and add chopped thyme and sage. Cool slightly.
Combine cooled mushroom mixture, bread crumbs, 1/2 cup tomato sauce, 1 T. tomato paste, milk, egg, 1/2 T. crushed red pepper flakes, salt, and pepper. Mix buffalo with meatloaf base mixture. Mix until just combined. Form into a loaf on a sheet pan.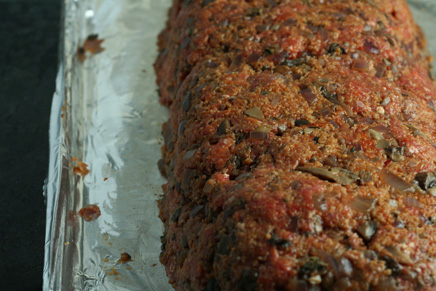 Roast meatloaf in oven for 30 minutes.
In the meantime, combine remaining 1/2 cup tomato sauce, 1 T. tomato paste, and 1/2 T. red pepper flakes. After the meatloaf has been baking for 30 minutes, pour tomato sauce evenly over top of loaf. Roast the meatloaf an additional 20 minutes. Remove from oven and let rest for 5 to 10 minutes.
Slice, serve, and enjoy! And if you have any leftovers, save for meatloaf sandwiches the next day.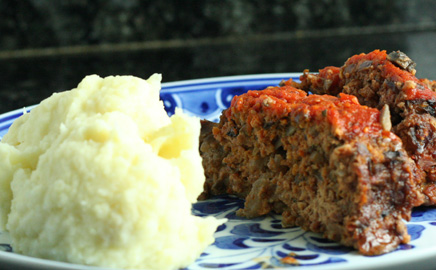 Suggested accompaniments: Garlic Parmesan Mashed Potatoes (Coming Soon!)