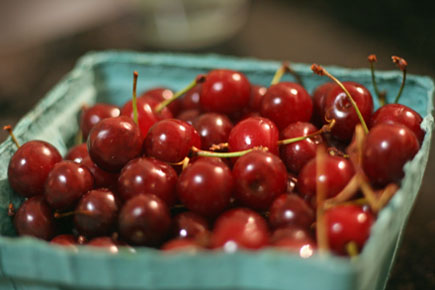 Landmine Pie. That is what my lovely fiance named this dessert that I slaved over for hours in the kitchen (okay, so maybe it was actually an incredibly easy dessert that took less than 30 minutes, but that is absolutely not the point.) I will be calling it by its real name, Cherry Clafoutis not Landmine Pie. Why Landmine Pie you ask? Please read on.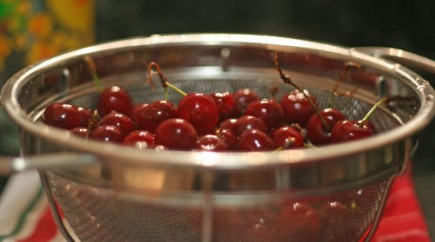 While it seems like desserts such as clafoutis are becoming more and more popular, not everyone knows what the heck clafoutis actually is. For those of you who don't know, let me introduce you. Clafoutis is a French dessert typically made with fruit suspended in a light, pancake-like batter. It originated in Limousin, a small region in southern France known for their sweet, dark cherries. Traditionally, the dessert is made with cherries with the pits still intact. Purists swear that the pit imparts a subtle almond flavor to the dessert. I'm not sure if I'm a believer but it doesn't really matter what I think. People swear by it and I wasn't going to argue.
When I found the highly regarded sour cherries that everyone seems to be talking about at the Dupont Farmer's Market on Sunday, I grabbed close to 2 lbs. worth. Apparently, these jewel-toned beauties were enjoying their last week at the market so I needed to stock up. And when I found this recipe for Cherry Clafoutis on Smitten Kitchen, I knew I had a winner. Plus, keeping the pits intact actually makes the cake taste better? Sold. While I love cherry desserts, the pitting part can be so incredibly laborious and well, I just didn't have time to mess with it on Sunday. Not to mention that I have yet to receive the cherry pitter on my registry (which Andrew the H also called "unnecessary" since cherry season is so short. He clearly does not understand the needs of a chef!). Well, my laziness came back to bite me which almost always happens doesn't it? In fact, my laziness became more and more evident with every single bite of this amazing dessert that started to seem less amazing with each and every forkful. And hence the name Landmine Pie. Because, according to Andrew the H, every bite is like a landmine. I guess because you have to be cautious with every bite. It could either be delicious or you could bite right into a pit which isn't necessarily painful but definitely unpleasant. Not quite the same as an explosive landmine, but you get the idea.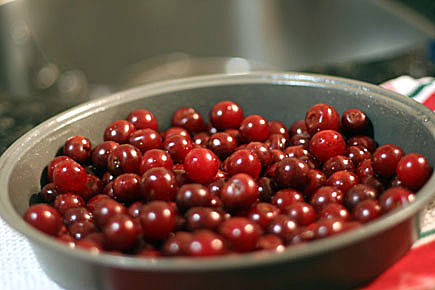 I did think that this recipe was one of the better clafoutis recipes I have tried. My one recommendation would be to pit the cherries. Seriously people. Up the almond extract amount if you really want that almond flavor. Or if you are a true traditionalist, leave the pits in. I just found it a bit distracting having to discard the pits with almost every single bite. Plus, I couldn't really just sit back, enjoy my dessert, and watch the season premiere of Entourage. If you are worried that you can't find cherries anymore, don't distress! This dessert is excellent with plums (soaked in armagnac first), apples, blackberries, or peaches. In fact, clafoutis is the perfect spring or summer dessert because it is quick, easy and makes great use of the abundance of fruit and berries at the market this time of year. Try it with creme fraiche, ice cream, whipped cream, greek yogurt, or with a dusting of powdered sugar. It would also be an excellent addition to your brunch spread (4th of July anyone?). It looks impressive but is a cinch to whip together with a short list of ingredients that you probably already have in your cabinet.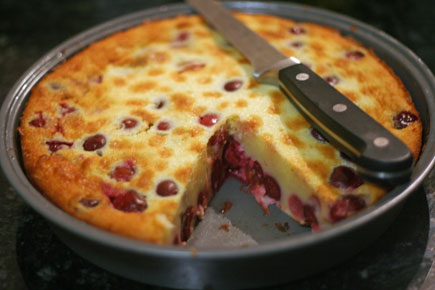 Cherry Clafoutis
Slightly adapted from Smitten Kitchen via Ceres and Bacchus
2 cups sour cherries
3 large eggs
1/2 cup butter, melted
1/2 cup sugar
1 cup flour
1 cup whole milk
1/2 tsp. almond extract
1/4 tsp. vanilla extract
optional: 2 Tbsp. rum
Pre-heat the oven to 400 F. Beat the sugar and the eggs with a wire whisk until they turn lighter in color. Gradually add the butter, beating to incorporate. Add the flour all at once and whisk until the batter is a homogeneous mixture. Next slowly pour in the milk a little at a time. Add the vanilla and almond extracts, and the rum if you are using it, mixing well. The batter should be very smooth and shiny.
Place the cherries, unpitted, in a buttered glass or earthenware baking dish, cake pan (9 or 10 inches in diameter) or cat iron skillet that can go in the oven. Pour the batter over the fruit. Bake in the pre-heated oven, approximately 30-40 minutes, until slightly browned and almost completely set in the middle. Let sit at least 15 minutes before turning out onto a plate and serving. Serve warm or at room temperature. Leftovers are even better for breakfast.