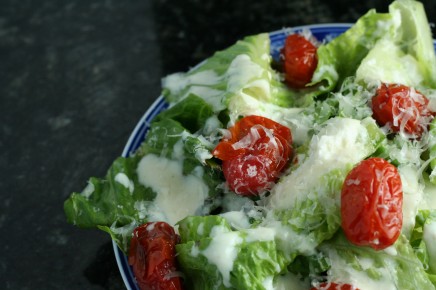 I have been saying for months that I am going to start a food blog. In fact, I started a "trial" food blog in January during one of three blizzards that bludgeoned the D.C. area. With only three posts and the most embarrassing photos you have ever seen, I decided to take a short hiatus to read up on other blogs and spend some (key word: some) time planning a new look and theme. And when I found out 2 weeks ago that I was a finalist in Food52's Best Caesar Salad recipe, I decided that I needed to super charge my blogging efforts. Unfortunately, life kicked in and work has been a whirlwind the past 2 weeks. I literally feel like I have been swept up in a tornado, spun around a few hundred times, and dumped in a random field. Okay, that was dramatic but you get the idea.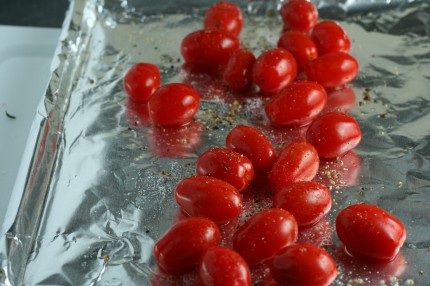 Enough about work. For almost  7 days, I stalked the Food52 website–specifically, the "Activity Log." Who had voted? Was my recipe still on the most popular list? Were there any new comments. And then, one day earlier than I expected to find results, I received an email that someone had commented on my recipe. I was absolutely shocked/thrilled/honored when I read the email and saw the words Congratulations. Congratulations? I WON??!! I NEVER win contests and I can not believe that I won a cooking challenge where my competition included some of the most extremely talented chefs out there. It was one of the most exciting moments!  And it inspired me to finally get my blog up and running during 2 of the craziest weeks I have ever had in my working career. So there it is. Thank you Food52 and I hope you try this caesar salad recipe which will be featured in the Food52 cookbook published by Harper Studio.
Goat Cheese Caesar Salad with Roasted Tomatoes with Parmesan Crisps
[Serves 2 with extra dressing]

Caesar Dressing:
1/3 cup buttermilk
2 tablespoons good quality mayonnaise
1 garlic clove, grated
1.5 tablespoons lemon juice
1/2 teaspoon anchovy paste
2 teaspoons dijon mustard
salt and pepper to taste
Salad:
3/4 cups Parmesan cheese, freshly grated
10 cherry tomatoes
1/2 tablespoon olive oil
1 teaspoon balsamic vinegar
2 heads of romaine lettuce (or how ever many you are serving)
4 ounces good goat cheese
1 garlic clove, grated
1 teaspoon dried oregano
1 tablespoon heavy cream
Mix all of dressing ingredients together. Add salt and pepper to taste. Place in refrigerator until ready to use.
Take goat cheese out of refrigerator to soften. Grate garlic and mix with oregano and cream. Mix softened goat cheese with herb cream mixture. Smear a portion of goat cheese mousse on bottom of one salad plate (depending on how much goat cheese you like, I love goat cheese so probably use more than the normal person!). Repeat with remaining salad plates.
Preheat oven to 375 degrees. Toss cherry tomatoes with olive oil, balsamic vinegar, salt, and pepper. Roast in oven for about 20 minutes or until tomatoes burst and brown in a few spots. Take out of oven and set aside.
Raise oven temperature to 400 degrees.Pour a heaping tablespoon of parmesan on a silicone or parchment lined baking sheet. Repeat with 1/2 cup parmesan cheese spacing cheese at least 1/2 inch apart. Reserve 1/4 cup parmesan for serving. Bake for about 5 minutes until crisp and golden brown. Cool.
Clean romaine lettuce and trim. Place between damp paper towels and place in refrigerator until ready to use. Toss romaine very lightly with dressing (be very sparse as I always put a little dressing on top of finished salad). Divide lettuce between salad plates on top of goat cheese "schmear". Divide roasted tomatoes on top of salad. Drizzle about a tablespoon of dressing on lettuce and sprinkle with parmesan. Add parmesan crisp on top of salad and serve.