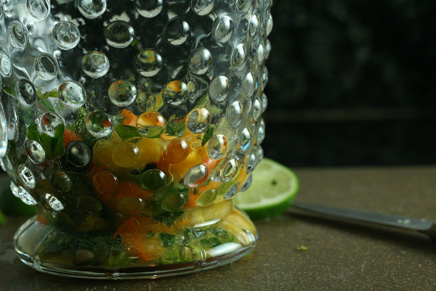 It's officially summer in the District. The humidity has arrived—actually it has been here for at least a month—and even though we had a brief bout of beautiful spring-like weather for the past 3 days, well, that was just a tease. And tomorrow, A and I are hopping on a plane to Texas where the humidity is high and the temperature is higher. This weather + curly hair=frizzy mess. The good news? This weather also means cool cocktails and summer pool parties. What we lack this year in a pool, we will surely make up for with fun cocktails (my bad for choosing an apartment without a pool—what was I thinking? I obviously wasn't).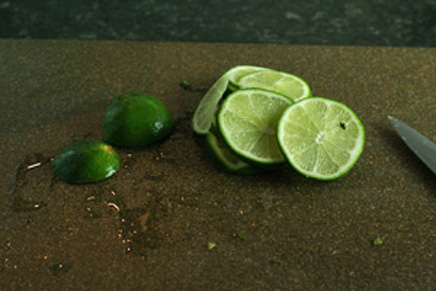 At the store the other day, I glanced over and noticed the SALE! sign. What was the featured item, you ask? Kumquats. While I had heard of this curious little fruit, I had never tried it (or at least I don't remember ever trying it but it is quite possible that they have snuck themselves in some tasty meal before). So, I tossed them in my cart and decided then that it would be cocktail time at 915 E (DC residence). Checking my favorite foodie websites when I got home, I happened upon this recipe from the great Jean-Georges Vongerichten. Well, I'll be. A cocktail recipe for a mojito that uses kumquats. Check, check and check.
I made a few adjustments as I didn't have the crazy juice it called for and certainly didn't need the 10 servings it made since there were only 2 of us imbibing (Henry the dog obviously doesn't drink. He is waaayyy too young!). In fact, the 5 servings that A and I shared gave me a minor hangover the next day. Maybe rum doesn't agree with me. Or maybe I stayed up too late playing with my NEW iPad (okay, A's new iPad but we decided to share it)! Or maybe I can't handle 2 drinks anymore.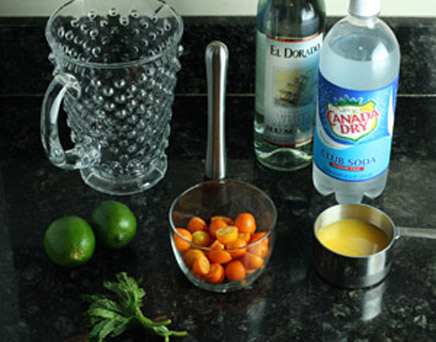 Whatever it was, it doesn't really matter. What does matter is that you will love this amazingly delicious mojito recipe if you are the mojito drinking type. If you like your cocktails more tart than sweet then leave out the simple syrup. I like a sweet mojito and decided it needed a bit of this syrup. And so, I added it to my recipe.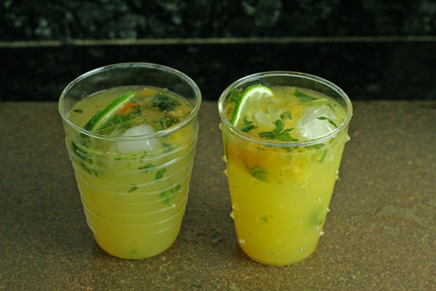 Kumquat Mojitos
Adapted from Jean-Georges Vongerichten (Food and Wine)
Simple Syrup:
1/4 cup water
1/4 cup sugar
Mojitos:
10 Kumquats, halved
10 mint leaves
1/2 cup good orange juice
1 cup white rum (adjust amount depending on how tipsy you want to feel)
1/2 liter club soda
1 lime, sliced into 10 thin slices
For simple syrup, heat water and sugar over medium heat. Stir until sugar has completely dissolved into water. Cool completely (I would even recommend chilling this) and set aside.
Place sliced kumquats and mint leaves in a pitcher. Muddle vigorously with a muddler or a wooden spoon. Kumquats should release their juice and mint leaves will break slightly. Add simple syrup, rum, orange juice, club soda, and limes to pitcher. Stir to combine.
Fill pitcher with ice and serve. Enjoy!