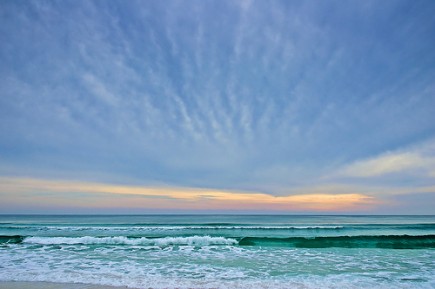 image via Flickr
I absolutely love the 4th of July. Every year growing up, my family spent the holiday at the beach in Florida. All of the kids would plan for weeks what our parade float would be in the annual parade. We were mermaids one year riding on the back of someone's convertible and then another year, we dressed up like Woodstock people—or what we thought was a Woodstock attendee—with carefully tie-dyed ensembles. Our ritual was the same every year. After the parade, we made our way to Modica Market, ordered the Belgian waffle with whipped cream, strawberries, and blueberries and waited for the results of the winning "float" in the parade. Then we grabbed our bathing suits and headed to the beach where we parked ourselves for most of the afternoon. On the way home before dinner, we made another stop by Modica's for fresh squeezed lemonade. And then we would get ready for a big barbecue dinner before the fireworks show on the beach.
It's been almost twenty years since those days (eep!) but the holiday still excites me every year. And it always has me wishing that I was a kid again when my only worry was what I was going to be in the 4th of July parade. While the beach is not in my 4th of July plans this year, my parents are in DC for the weekend and with all of the eating we have planned, I'm pretty sure that a bathing suit would not be the best choice of attire anyway. And with an apartment that measures less than 800 square feet, a barbecue is out of the question. So while we battle the heat to catch a glimpse of the fireworks on the Mall, I thought I'd put together a few menu ideas for the 4th from around the web for those interested.
What are your plans for the 4th of July this year?
Fourth of July Menu Ideas
Drinks
Watermelonade
Merrill from Food52 has refreshing version of watermelon lemonade—Watermelonade! Make it "adult" by adding some vodka.
Also check out Food52's 4th of July wine guide and Serious Eats' review of the best summer brews.
Appetizers
Gourmet Cheese Platter from your local cheese shop
Sides
Broccoli Slaw
Smitten Kitchen never disappoints. This broccoli salad/slaw reminds me of one of my favorite deli's in Memphis.
Warm Potato Salad with Goat Cheese
Goat cheese had to make an appearance somewhere in this menu. The Bitten Word's potato salad version looks amazing.
Traditional Potato Salad from Smitten Kitchen
Or if you are looking for something a little more traditional or just hate goat cheese (I still don't believe these people exist but apparently they do.)
Arugula and Bean Salad with Cumin Dressing from Not Derby Pie
Grilled Corn on the Cob with Chile and Lime from Bon Appetit
Main Dish
Burgers and BBQ always makes me think of the 4th of July.
Chipotle Turkey Burgers from The Kitchen Sink Recipes
Lamb Burgers with Arugula, Tomatoes, and Feta from Epicurious
Sticky Balsamic Ribs from Gourmet
Neely's Wet BBQ Ribs from Food Network
Because you can't have a barbeque without Memphis ribs.
Grilled Barbeque Chicken from Katie Lee
Dessert – (the best part!)
Sweet Cherry Pie from Annie's Eats
Blackberry Pie Bars from Joy the Baker
Peach Ice Cream from Homesick Texan
And don't forget fresh watermelon.
Have a safe and happy 4th of July!