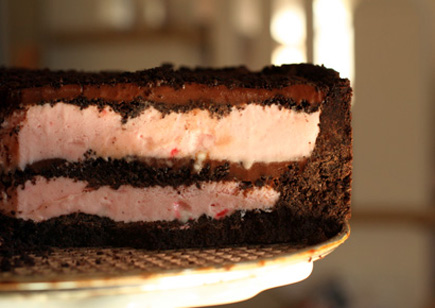 Anyone who knows me will tell you that I have a MAJOR sweet tooth. Even after the largest meal of my life, I can still find room for dessert. It is a problem. I know. A has finally learned, after only five years of dating, that when the waiter asks if we would like to see the dessert menu after dinner, the answer is always "yes please." True, I love to eat dessert, but I also really love to make dessert. There is something so cathartic about baking, don't you think?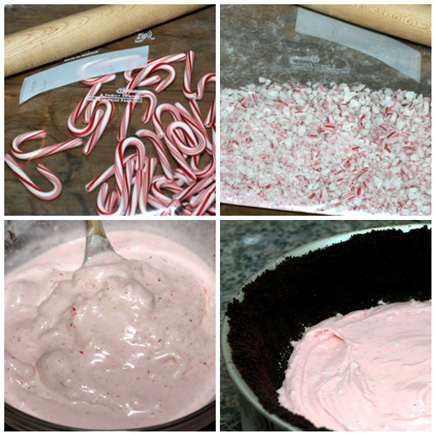 On a recent (and bitterly cold) Sunday morning, I flipped to my go-to TV channel, Food Network, and saw Anne Thornton, the network's newest dessert star, making this chocolate peppermint ice cream cake. Even though the wind chill in Charlottesville has been hovering in the single digits for the past two weeks, this peppermint ice cream cake with chocolate-y fudge goodness looked kind of perfect. Plus, it's the holidays. And have I already said how much I love peppermint ice cream? No? Well…I really, really  love peppermint ice cream.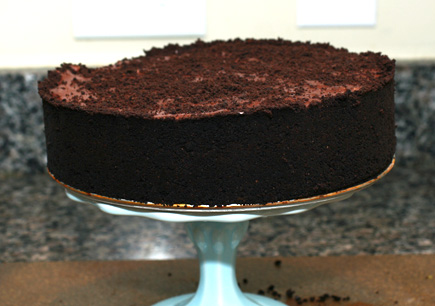 Chocolate Peppermint Ice Cream Cake
Recipe Adapted from Anne Thornton/Food Network
A few notes: The peppermint candy turns the ice cream pink! LOVE it. I am also not sure if organic peppermint extract smells funky or if all peppermint extract smells funny, but I decreased the amount because my organic brand smelled very grassy…in a weird way. Taste your ice cream as you mix and adjust the flavors accordingly. Also, try to press the crust about 1/4 to 1/2 inch thick and as evenly as possible. There is one spot that I accidentally made particularly thick (see photo above) and it is a little difficult to cut through. Next time, I might make more of the glaze, too. It is delicious, especially in the middle layer. Enjoy!
Crust:
1/2 cup plus 3 tablespoons unsalted butter
1 2/3 cups semisweet chocolate
2 (9-ounce) packages chocolate wafer cookies (about 80 cookies)
Glaze:
3/4 cup heavy cream
1/4 cup plus 3 tablespoons light corn syrup
1/2 cup semisweet chocolate
Ice Cream Filling:
8 cups good quality vanilla ice cream, slightly softened
1 1/2 cups coarsely crushed red and white striped hard peppermint candies (about 10 ounces)
1 teaspoon peppermint extract
For the crust: In a small heavy bottom saucepan over low heat, melt the butter and chocolate. Remove from the heat. Finely crush the chocolate wafers in a plastic bag with a rolling pin, or use a food processor. In a large bowl, combine the wafer crumbs with the melted chocolate and blend until the crumbs are moistened. Reserve 1 1/4 cups crumb mixture in a small bowl. Press the remaining crumb mixture onto the sides and bottom of a 9-inch diameter springform pan with 2 3/4-inch high sides. Freeze for 1 hour.
For the glaze: In a large heavy bottom saucepan, bring the cream and corn syrup to a boil. Remove from heat, add the chocolate, and whisk until it is melted and smooth. Let stand until cool but still pourable, about 1 hour.
For the filling: In a large bowl, working quickly, mix the ice cream, crushed candies, and extract until blended. Spoon half of the ice cream into the crust, spreading it evenly. Put the remaining ice cream mixture in the bowl in the freezer. Sprinkle the reserved 1 1/4 cup cookie crumb mixture over the ice cream in the springform pan, press the crumbs down gently. Pour 1 1/4 cup of the chocolate glaze over the ice cream in the springform pan. Freeze for 1 hour. Top with the remaining ice cream, and spread evenly. Freeze until firm, about 4 hours. Stir the remaining glaze over low heat, just enough so that it is pourable but not warm. Pour the glaze over the ice cream, and spread evenly. Freeze overnight.
Place a sharp knife in warm/hot water. Run the sharp, warm knife between the pan sides and the crust to loosen the cake. Release the pan sides and transfer the cake to a platter. This can be refrozen until it is finished. Though I am warning you, it goes fast!