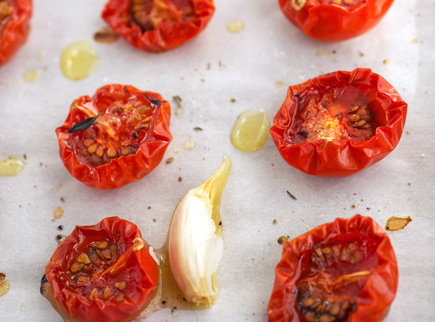 There is really nothing better than a middle of summer tomato from the farmer's market. And after tasting one, it is even harder to eat mid-winter grocery store tomatoes. So what's a tomato-loving girl to do during the winter months? Why, make slow roasted tomatoes, of course! These jewels are fool proof and provide the perfect flavor pop for your winter tomato blues. They take less than 5 minutes to put together then slowly caramelize and shrivel in the oven for most of the morning (or afternoon). If you have never tried slow roasted tomatoes before, you will be shocked by the change of flavor from simply roasting super low and super slow.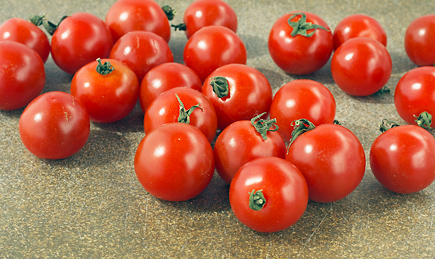 Use them in salads, pasta, or salsas. Place alongside your appetizer spread with burrata or even herb goat cheese dip. Or simply pop them in your mouth. And that's not all, you can substitute these beauties for your favorite recipes that call for sundried tomatoes. Because after trying them, you may never buy packaged sundried tomatoes again.
Check out these recipe ideas around the web for using slow roasted tomatoes:
Andrea, of Andrea's Recipes, roasts her summer tomatoes and freezes them (with olive oil) for enjoyment throughout the winter months.
Toss them in Heidi of 101 Cookbook's Farro & Herbs Salad.
Or try The Kitchn's Slow Roasted Tomato Sauce.
Add them to my Lemon Spaghetti for an extra kick of flavor.
Use these tomatoes in Marci's Tomato Basil Soup!
If you think slow roasted winter tomatoes are amazing, then you really have to try slow roasting your end of summer tomato loot, too. Trust me, it is so worth it. How do you use slow roasted tomatoes?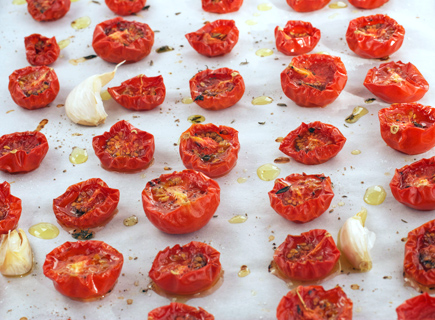 Slow Roasted Tomatoes
Cherry, grape, or small Roma tomatoes
Olive oil
Salt
Pepper
Whole, unpeeled garlic cloves
Herbs (such as thyme or rosemary)
Preheat oven to 225 degrees.
Cut tomatoes in half and place cut side up on a baking sheet. Place garlic cloves on baking sheet. Sprinkle lightly with olive oil just until they glisten. Sprinkle with salt and pepper and any herbs you would like to use. Seasonings should be used sparingly as the finished product is already packed with concentrated flavor.
Bake the tomatoes in the oven for about 3 hours until tomatoes are shriveled and dry looking. This may take a little more time for roma tomatoes or a little less time for grape.
Use right away or let cool, cover them with a bit of olive oil and keep in the fridge or freezer for salad toppers, pasta picker-uppers, salsas, or just popping in your mouth!
These tomatoes, covered in oil, will last in the fridge for about 3 weeks.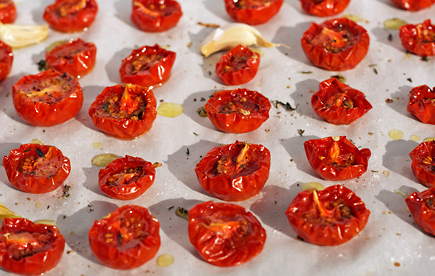 Follow my blog with bloglovin or subscribe here.