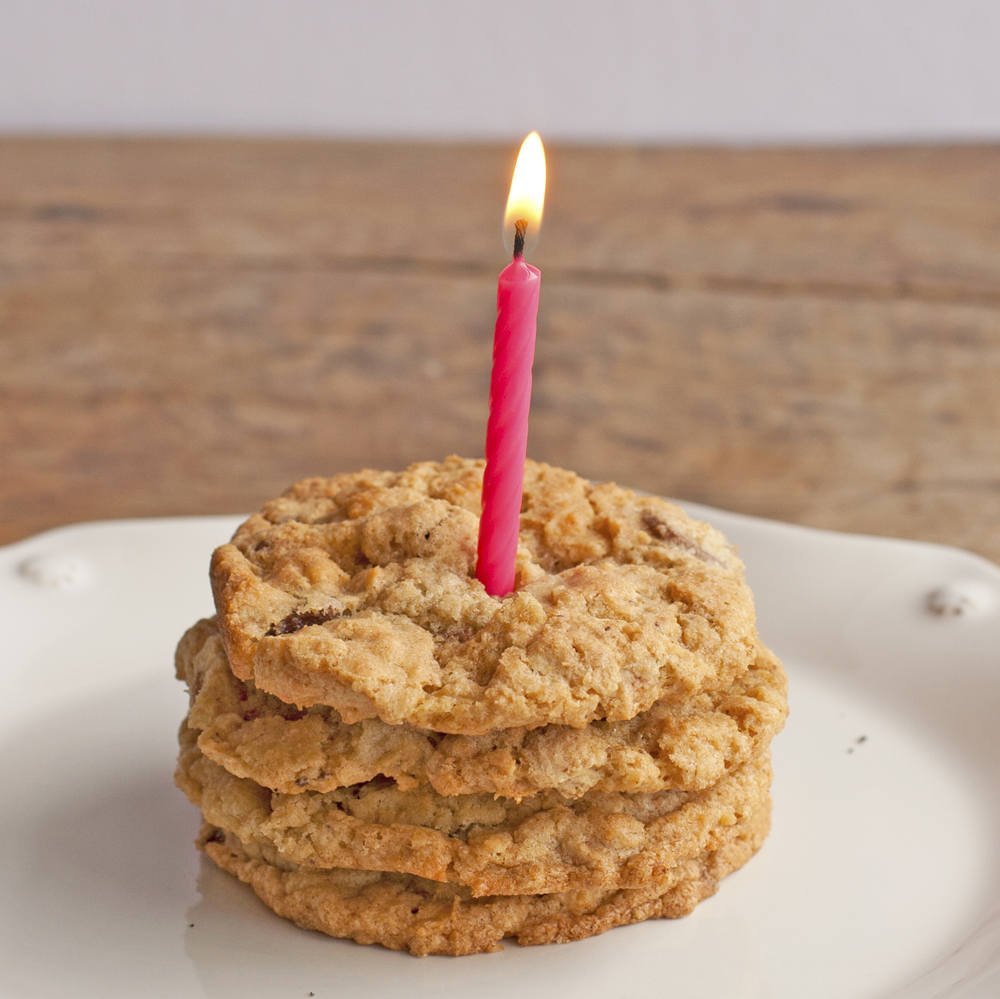 Happy Birthday to you, Happy Birthday to you! Happy Birthday to Jessss-ssssieeeee, Happy Birthday to you! Today, April 11th, is my little sister's 27th birthday! That's right. We are getting soooo old! And that's not all party people, today is my half birthday. As I'm sure my sister fondly remembers, since we are exactly 18 months apart, I always insisted on celebrating my half birthday on Jessie's real birthday. It took a few years, but she soon realized that she could celebrate her half birthday on my birthday (October 11th, mark your calendars) so it ended up being pretty fair, really.
In honor of the big day, I decided to whip up a little something to celebrate. And since she lives in Memphis and I am in Charlottesville, I needed something shippable. Enter Momofuku Compost Cookies from Momofuku Milk Bar. They are kind of perfect because I have always been the one in the family with a sweet tooth (thanks, Mom), and my sister has always been the junk food eater. That is, when she started introducing foods other than pasta with butter and cheese or chicken fingers at age 12.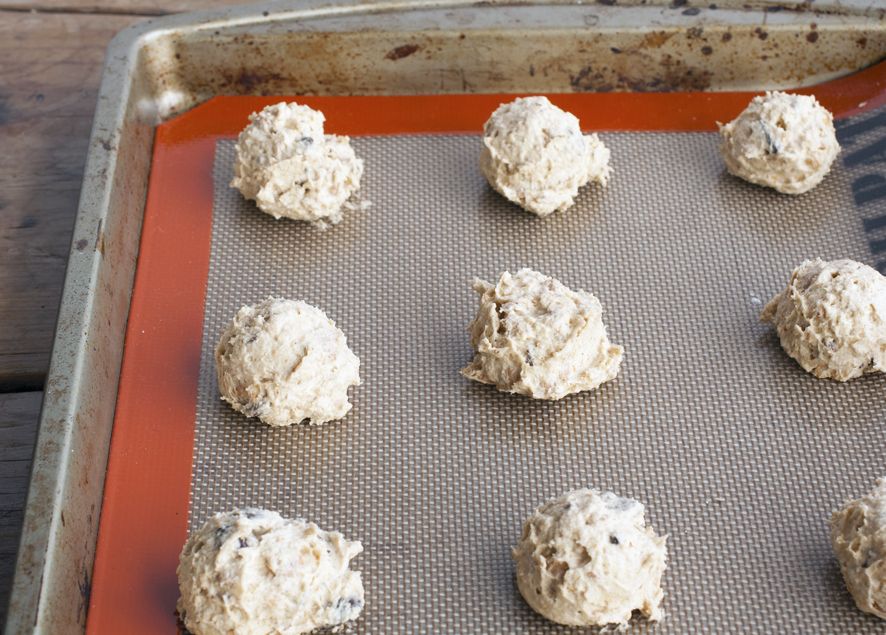 To celebrate our birthday milestones, I baked up a hybrid cookie with my favorite sweet treats and Jessie's junk food favorites (okay, I didn't add goldfish because that didn't sound very good, but there are pretzels and chips in there!). They are deliciously salty, sweet, and chewy. Yum.
Kind of like when we used to eat vanilla fudge swirl ice cream with potato chips while watching Full House on TGIF (remember that 80s kids? Oh, memories). It is nothing short of a miracle that we were not obese children. Seriously.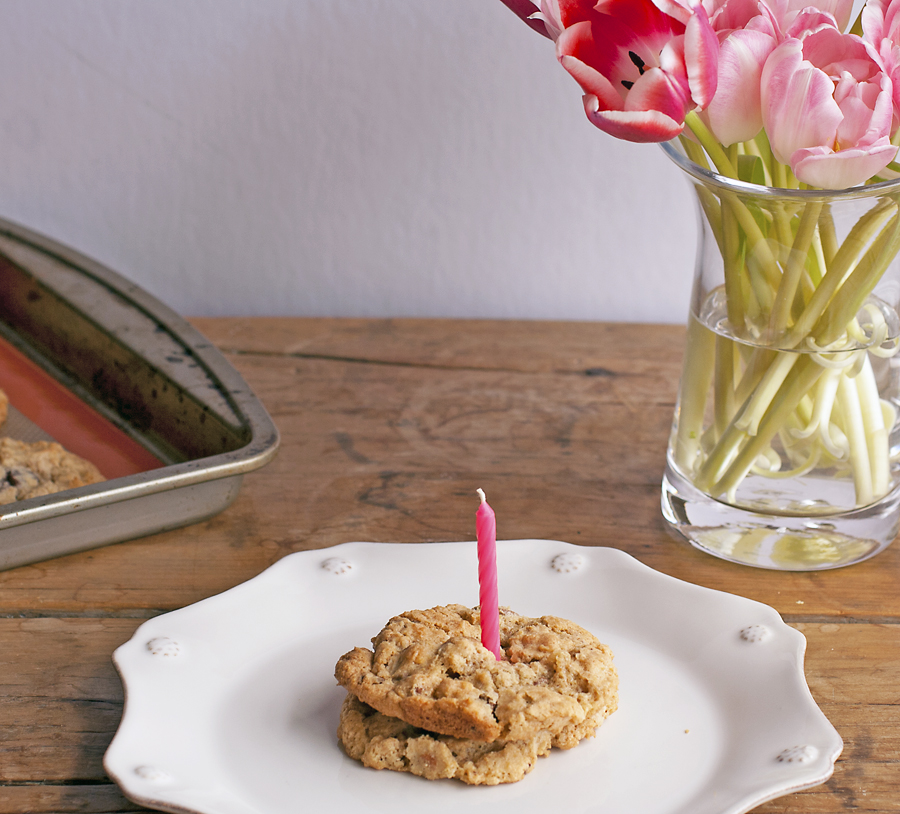 So happy birthday little sis! Hopefully these taste as good tomorrow as they do today. And I do apologize that your box isn't entirely full. Someone (read: Andrew) snuck at least five for himself late night when I was fast asleep thinking that my cookies were safe from cookie monsters. He wanted to celebrate, too, I guess. Or make sure they were safe to eat. So thoughtful of him, right? Apparently, nothing is safe around here, but at least the official taste tester of our house approves.
I'm off to overnight these for a belated birthday treat. Cross your fingers they arrive in one piece!
What baking ingredients and/or junk food ingredients would you use for these cookies?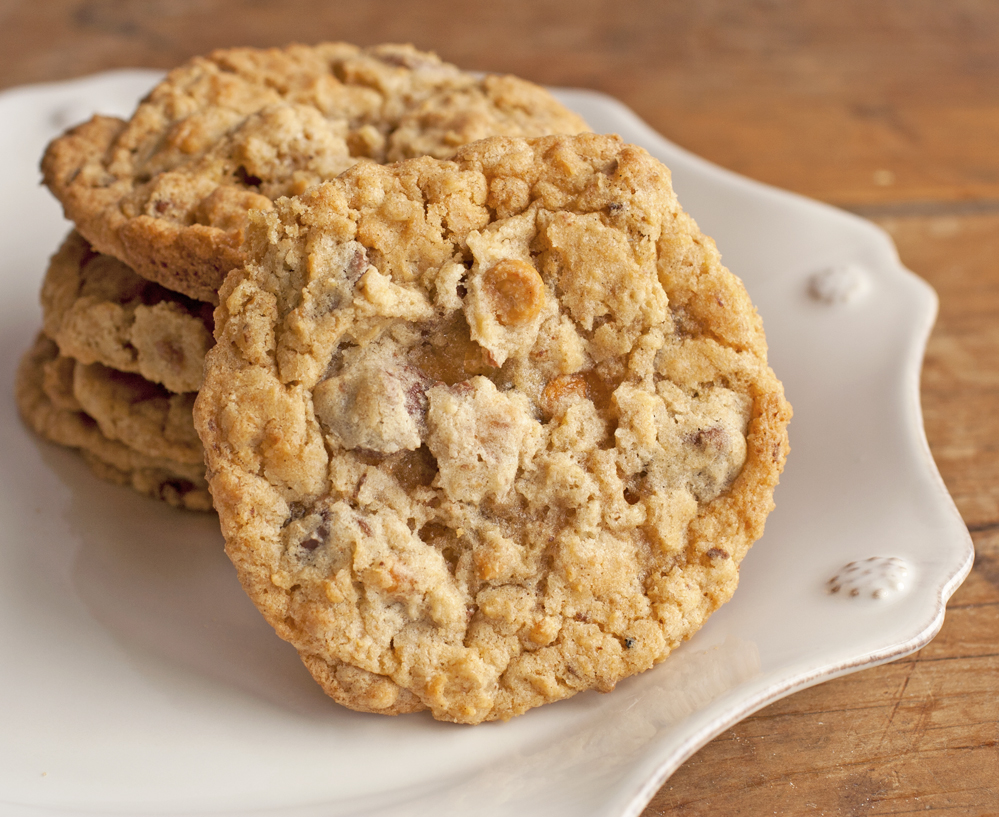 The Momofuku Milk Bar Compost Cookie
recipe by Christina Tosi
Adapted from Amateur Gourmet via Regis & Kelly's website
I changed a few things in this original recipe. I added graham flour, oats, decreased the amount of salt (2 tsp was way too much for me with the salty junk food additions), and added one extra cup of baking ingredients. Next time, I may even beat in some peanut butter with the butter and sugar because I LOVE peanut butter cookies.
1 cup unsalted butter (2 sticks), room temperature
1 cup granulated sugar
3/4 cup light brown sugar
1 Tbsp corn syrup [Note: I somehow forgot this and mine turned out fine]
1 tsp vanilla extract
2 large eggs
1 3/4 cups all purpose flour
1/4 cup graham flour (optional)
2 tsps baking powder
1 tsp baking soda
1 tsp Kosher salt
1 cup oats
2 1/2 cups your favorite baking ingredients (options: chocolate chips, other flavored chips, Rollos, Cocoa Krispies, m&m's, reese's peanut butter cups)
1 1/2 cups your favorite snack foods (options: chips, pretzels, yogurt covered pretzels, ritz crackers, etc.)
My baking ingredients: bittersweet chocolate chips, milk chocolate chips, peanut butter chips, and butterscotch chips (I so should have thrown in some white chocolate chips too. Sigh.)
My snack food ingredients: Crushed regular potato chips and pretzels (I crushed mine too much. Next time, I would leave some bigger pieces of chips and pretzels)

In a stand mixer with the paddle attachment, cream butter, sugars and corn syrup on medium high for two to three minutes until fluffy and pale yellow in color. Scrape down the sides with a spatula. On a lower speed, add eggs and vanilla to incorporate.
Increase mixing speed to medium-high and start a timer for 10 minutes. After reading some reviews, I only beat the butter/sugar mixture for 5 minutes but the original calls for 10 minutes. During this time the sugar granules will fully dissolve, the mixture will become an almost pale white color and your creamed mixture will double in size.
Mix the flour, graham flour (if using), baking powder, baking soda, and salt together. When butter mixture is pale and fluffy, on a lower speed, add the flour mixture. Mix just until your dough comes together and all remnants of dry ingredients have incorporated. Do not walk away from your mixer during this time or you will risk over mixing the dough. Scrape down the sides of the mixing bowl with a spatula.
On the same low speed, add in your favorite baking ingredients and oats. Mix just until they evenly mix into the dough. Add in your favorite snack foods last, paddling again on low speed until they are just incorporated.
Using an ice cream scoop (mine was smaller than a standard ice cream scoop, but it worked well), portion cookie dough onto a parchment lined sheetpan.
Wrap scooped cookie dough tightly with plastic wrap and refrigerate for a minimum of one hour or up to 1 week. DO NOT BAKE your cookies from room temperature or they will not hold their shape.
Heat the oven to 375 F. Take the plastic off your cookies and bake 9 to 12 minutes. While in the oven, the cookies will puff, crackle and spread.
At 9 minutes, the cookies should be browned on the edges and just beginning to brown towards the center. Leave the cookies in the oven for the additional minutes if these colors don't match up and your cookies still seem pale and doughy on the surface.
Cool the cookies completely on the sheet pan before transferring to a plate or an airtight container or tin for storage. At room temp, they'll keep five days.
More Notes: I do not have a ton of room in my refrigerator and I also don't have tons of cookie sheets. SO, I portioned out 2 sheet trays of cookies and wrapped in plastic wrap. I put the rest of the dough onto a piece of plastic wrap, shaped into a log, and wrapped tightly. I chilled this dough and when ready to use, I cut slices from the log and shaped that into balls. This method worked perfectly fine and took up hardly any space in the fridge!
And for those of you who made it this far, a little gem from the early days. No drama in this family. Nope. This is visual proof that Jessie never had to get out of her pajamas during the early years, while I preferred halloween costumes. Sassy!