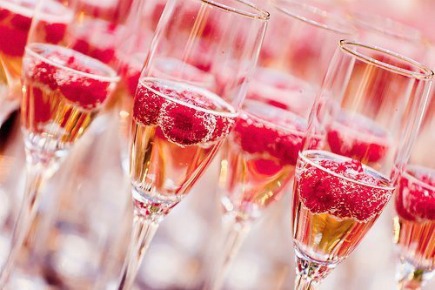 I can't believe that the holidays are already here, and 2012 is on the horizon! This year has flown by, and I honestly have no idea where the days or even months have gone. But here we are, about to say adieu to 2011 and hello to fresh new start in 2012. And speaking of new starts, I would like to kick off a wine series from my favorite wine blogger and major foodie, Heather of winepugnyc! She graciously agreed to share her favorite wines of the season that make excellent gifts for your favorite holiday hostess and the perfect vino to serve at your holiday soiree. And the only thing better than good wine is good wine at a great price!
Happy Holidays to everyone!
Wines for the Bon Vivant This Holiday Season!
Holiday season is here, and it's filled with party after party after party. So impress your hostess with exquisite bottles of wine that not only taste good, but also look good and lucky for us—don't break the bank!
SPARKLING
Flor Prosecco  ($15 retail): Prosecco is filled with holiday cheer and is a great drink to get everyone in the mood to celebrate! The extreme pear flavors and citrus is a great aperitif to your holiday celebration! Not to mention everyone will be fascinated with the simplicity yet ornateness of the fleu-de-lis 'stamped' bottle.
J BRUT ROSÉ NV ($28 retail): Enter with elegance with this sexy bottle of brut rose. The color will take over the room and the taste will put everyone in a trance.  Rich with red berries and bubbles this is a solid contribution to your New Years Eve toast!
WHITE
Banana Republic for Clos du Bois Holiday Wines – 2010 Clos Du Bois Chardonnay Holiday Edition ($17 retail): Not only is this wine fashionable (clearly), it is also a must if you want to make a statement this holiday season!  Full of refreshing pear, bright citrus and oaky flavors, this wine is another great option to pair with the standard holiday party starters – baked brie, shrimp cocktail etc!
Kendall-Jackson Sauvignon Blanc Grand Reserve 2009 ($11 retail): A true classic white wine with a burst of flavor and an abundance of acidity!  A great wine to bring to your hostess to drink all night long!  Everyone knows exactly what they are getting with this gift and that's great taste and LOTS of smiling!
RED
Mark West 2008 Pinot Noir ($10 retail): Everyone should have a little Mark West in his or her life during every holiday!  This is a staple wine that represents "Pinot for the People" in the classiest way possible and for a great price point! Toast to the holiday with this special wine!
Charles Smith Cabernet Sauvignon, Columbia Valley 2009 ($15 retail): A vintage looking bottle with script looking as if it is holding a witches potion is a great wine to pair with savory appetizers.  Lots of ripened dark fruits, with hints of cedar and wood.  A complex yet easy drinking Cabernet.  Did I forget to mention he won Winemaker of the Year!? Not too shabby!
 image via weheartit