I bring you the last installment of my gift guide series: Stocking Stuffers and Gifts under $100! Stockings are always one of my favorite parts of Christmas morning; I love filling them and love opening them even more. Filling a stocking doesn't have to break the bank! Many of the items below are under $20.
From lip gloss to cufflinks to mittens and socks, here are a few ideas that will make the perfect addition to any stocking!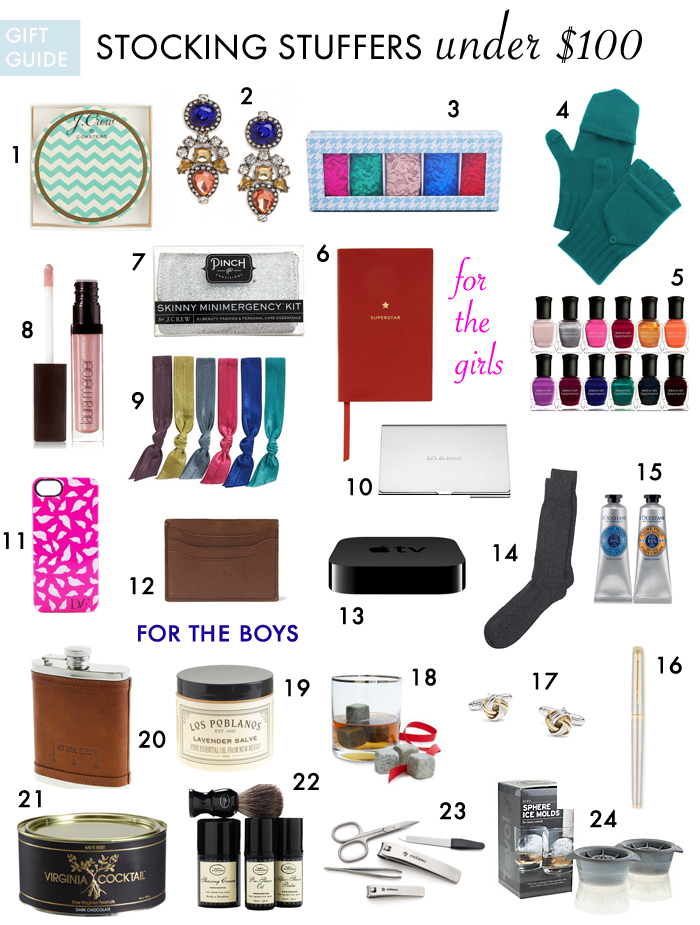 For the Girls: 1 Chevron Coasters // 2 Earrings // 3 Hanky Panky Panty Set // 4 Gloves // 5 Nail Polish // 6 Superstar Notebook // 7 Mini Emergency Kit // 8 Lip Gloss // 9 Hair Bands // 10 Card Holder // 11 iPhone Case
For the Boys: 12 Wallet // 13 Apple TV // 14 Cashmere Socks // 15 Hand Cream // 16 Fountain Pen // 17 Cufflinks // 18 Whiskey Stones // 19 Lavender Salve // 20 Leather Flask // 21 Dark Chocolate Covered Peanuts // 22 Art of Shaving Gift Set // 23 Manicure Set // 24 Ice Molds
Interested in more gift ideas? Check out my other Gift Guides:
Gift Guide for the Foodie
Gift Guide for the New Mom or Mom to Be
Gift Guide for the Hostess
You can also check out the Holiday Shop or my Pinterest boards for many, many more ideas to fulfill all of your gifting needs.
Happy Holidays!
Follow me on Bloglovin here.