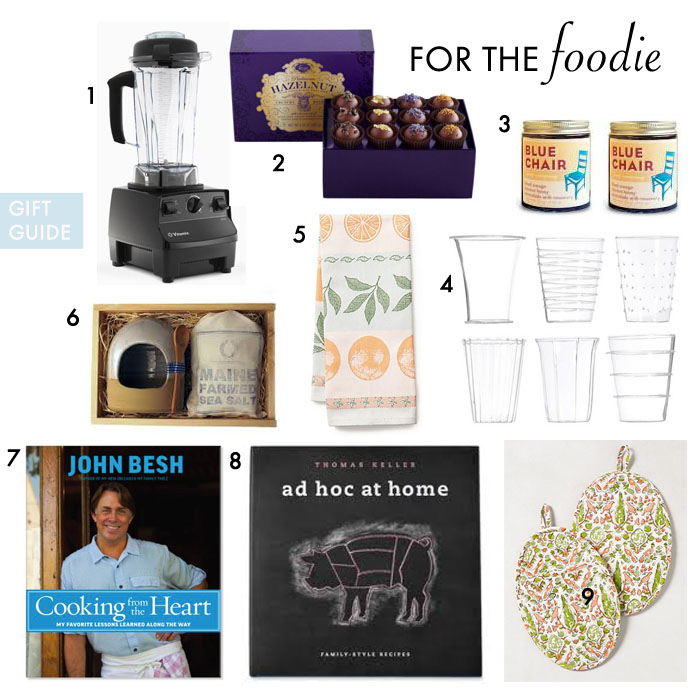 1. Vitamix Blender // 2. Vosges Chocolates // 3. Blue Chair Jams // 4. Tumblers // 5. Tea Towel // 6. Maine Salts // 7. John Besh Cookbook // 8. Ad Hoc at Home Cookbook // 9. Oven Mitts
Looking for the perfect gift for the foodie in your life? Look no further! There is still time to order gifts before the holidays and if you are like me, that is probably what you will be doing over the weekend. Happy gifting!
Vitamix Blender: The most amazing blender that you will ever own in your entire life. Seriously, I can't say enough good things about this blender! There is a reason that every restaurant uses this brand. It really is the best and worth every. single. penny.
Vosges Chocolates: There is an entire category of chocolate from this famous chocolatier that revolves around bacon and chocolate. I don't think I need to say any more!
Blue Chair Jams: The Rolls Royce of jams, this company blends unique flavors to create unusual, innovative flavors that will surely delight any foodie on your holiday list. I discovered them on my favorite crowd-sourced foodie site, Food52!
Roost Dainty Glasses: I got these as a bridesmaid's gift several years ago and LOVE them. Each glass has a different pattern which makes your table look elegant and effortless. I use them for wine when I am feeling the European vibe (which is pretty much always) and flowers and herbs for quick decor.
Tea Towel: Everyone loves a good tea towel. This one is sure to brighten up any kitchen!
Maine Salts + Beehive: Ask any foodie and they will tell you that good salt can transform a dish. Plus, this beehive cellar looks adorable on your kitchen counter. Packaged in a hand-crafted wooden box makes gift giving a breeze.
John Besh Cookbook: The third cookbook of the famous New Orleans chef has been called "the closest thing to an apprenticeship with John Besh." I love his other cookbooks; this one will surely be a hit under the tree.
Ad Hoc at Home Cookbook: And if Besh's Louisiana style cooking isn't your fancy, then Thomas Keller's "back to basics" surely will. I own this cookbook and love it. And it looks great on your coffee table. Cheers to that!
Aviary Oven Mitts: Every chef needs a pair of cute oven mitts. Love the shape, love the colors, love the pattern.
Need more ideas for the loves in your life? Check out my Holiday Shop for all of your gifting needs!