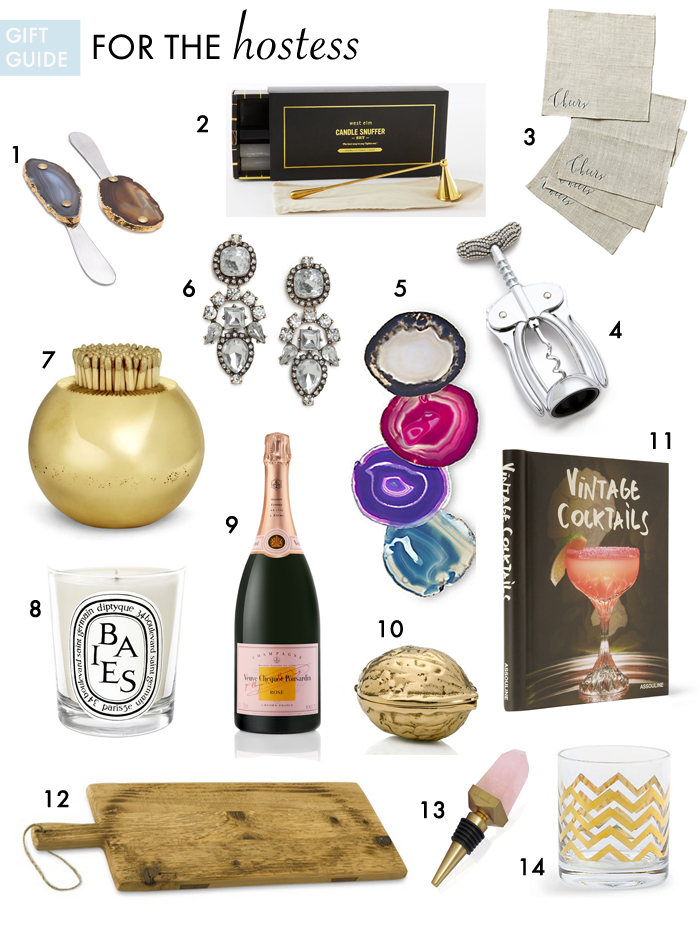 1 Agate Spreaders // 2 Candle Snuffer // 3 Cheers Cocktail Napkins // 4 Wine Opener // 5 Coasters // 6 Statement Earrings // 7 Match Striker // 8 Candle // 9 Bubbly // 10 Gold Nutcracker // 11 Cocktail Book // 12 Vintage Bread Board // 13 Wine Stopper // 14 Gold DOF Glasses
The countdown to Christmas is officially on, and if you are anything like me then you are still scrambling to finish your shopping. As much as I try to plan ahead, I am always inevitably rushing around grabbing last minute gifts until the stores close on Christmas Eve! Here are a few last minute ideas for the entertainer in your life. These items would also make great hostess gifts for all of those holiday parties that you will surely attend.
And if you are looking for even more ideas, hop over to my Holiday Shop to find goodies for everyone on your list! Or check out my other gift guides:
Gifts for the Foodie
Gifts for the New Mom or Mom to Be
Happy Holidays!
Agate Spreaders: The entertainer can never have too many spreaders. I love these agate ones! They would look gorgeous on a cheese board, dontcha think?
Candle Snuffer: A beautiful way to extinguish your flames.
Cheers Cocktail Napkins: Cocktail napkins are an easy way to add some fun and style to happy hour. I love these festive linen ones!
Wine Opener: A beautiful wine opener is something that I never think about buying for myself! It is also an essential tool for the entertainer. Why not use something fancy?
Coasters: Are you seeing a theme with the agate? I have been admiring these coasters for many, many months. Maybe Santa will be reading this gift guide? Wink, wink.
Statement Earrings: The hostess needs some pampering, too. And these are such an amazing price!
Match Striker: Have you seen Aerin Lauder's (granddaughter of the Estee Lauder) home collection? It is, not surprisingly, spot on. There are so many things that any hostess would love. From the trays to the nesting bowls to this match striker which also happens to look beautiful on a coffee table.
Candle: One can never have too many candles. It is one of my favorite gifts to give and receive. This is one of my favorite scents. I also love Lafco candles.
Bubbly: Pink bubbly? No explanation needed.
Gold Nutcracker: Another style icon with a new home collection. This gold nutcracker is functional for cracking nuts during the holidays but also a beautiful piece for your home.
Cocktail Book: A bartender's best friend.
Vintage Bread Board: I have the large size of this bread board and use it all the time as the base for my cheese and meat platter. When not in use, I hang it on the wall right outside my pantry.
A fun, colorful Wine Stopper to beautify your bar in between pours.
Gold DOF Glasses: For all of those vintage cocktails your host will be making!
More Gift Ideas for the Hostess: