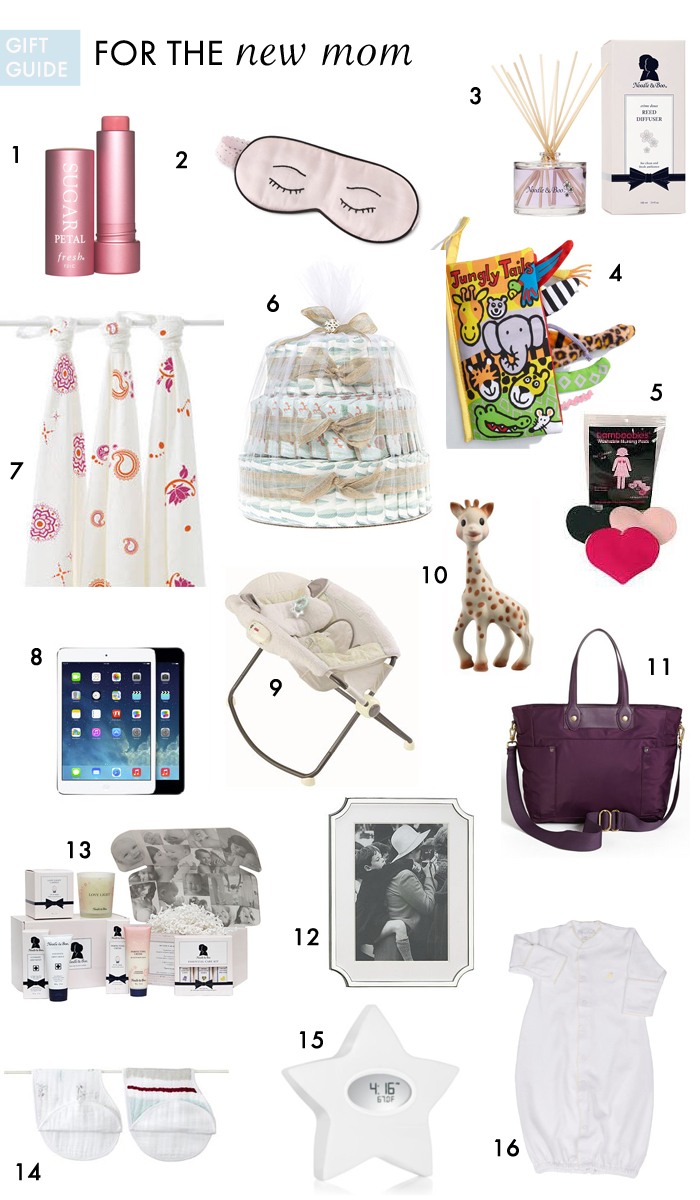 Lip Balm // Eye Mask // Diffuser // Book // Bamboobie Pads // Diaper Cake // Bamboo Blankets // iPad Mini // Rock n Play Sleeper // Sophie the Giraffe // Diaper Bag // Frame // New Mom Toiletries Pack // Burp Cloth Bibs // Serenity Star // Gown
Next up in the gift guide series are gifts for the new mom or mom to be! As a new-ish mom, I've put together a list of my favorite items plus those that I wish I had had. While the best gift of all is the new bundle of joy, any of these items will surely be cherished by any new mom.
And if none of these gift ideas are doing it for you, spa gift certificates and home cooked meals will never be turned away!
Lip Balm: Even sleep-deprived new moms want to feel somewhat presentable. A swipe of this lip balm with a hint of color at least gives you the illusion that you look presentable even if you haven't showered in a few days.
Eye Mask: A necessity for grabbing a short power nap at noon.
Diffuser: I love the smell of Noodle and Boo (as do most moms I have talked to). This is the perfect scent for a nursery.
Honest Company Diaper Cake: I love Honest diapers and they don't stink like other diaper brands sometimes can. I now use Honest Co. products for almost everything – home products, laundry, and baby products.
Bamboo Swaddle Blankets: Ask any mom and they swear by Aden and Anais swaddle blankets. You can use them to swaddle, as a breastfeeding cover, car seat cover, the list goes on. I love the bamboo ones because they are incredibly soft.
Book: G loved this book from the beginning. Eight months in, and she still loves chewing on the tails, screaming, and crunching up the book with both of her hands.
Bamboobie Pads: Another mom staple. I love these because they are soft and eco-friendly. Most importantly, they are much more comfortable than the paper disposable kind!
iPad Mini: For all of the late night feedings.
Rock n Play Sleeper: A new mom must. G spent most of her first few months hanging out in this sleeper. It is inexpensive and folds up for easy transport!
Sophie: I already spoke about our love for Sophie in my Seven Month Favorites post. G had a slow start falling in love but now she squeals in delight every time she sees Sophie!
Diaper Bag: Every mom needs a diaper bag and this one is especially chic!
Frame: I have so many photos of G that I can barely keep enough memory on my phone to take new ones. A new mom can never have enough frames for all of those baby photos!
New Mom Toiletries Gift: New moms need pampering too! These products are all-natural and they give 20% of their profits to charities like St. Jude. Love buying from businesses that give back!
Burp Cloth Bibs: You can never have enough burp cloths in the beginning. These are multifunctional because they can also be used as bibs when baby starts drooling or eating solids.
Serenity Star: Love this star because it is multifunctional. It is a clock, sound machine, and thermometer plus it is so cute!
Gown: The kissy kissy gowns that snap into a playsuit are my favorites. Don't buy newborn size, buy 0-3 for longer use.
More Gift Ideas for New Moms: