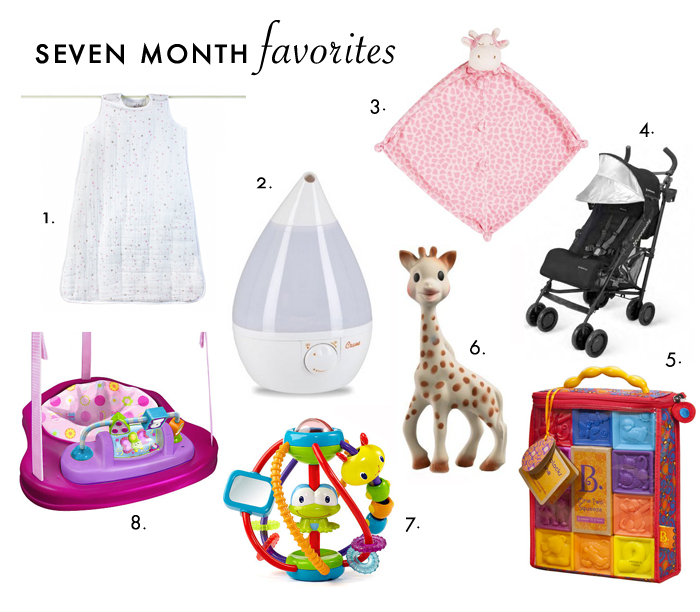 One \\ Two \\ Three \\ Four \\ Five \\ Six \\ Seven \\ Eight
Grace just turned 8 months last week! I don't even know how that is possible, but alas, here we are. I swear time stood still when I was pregnant; Andrew the H jokes that we actually moved back in time when I was pregnant (which obviously didn't happen but it sure felt like it at times). And now, time is flying by. I swear, I am going to wake up and Grace will be a teenager telling me how embarrassing I am. I am so not ready for that!
As we head into our eighth month, here were our favorites from month seven!
One: Aden and Anais Cozy Plus Sleeping Bag. These have been amazing during the cold winter months. This sleeping bag is like a comforter that is perfectly safe for baby. I can sleep easy knowing that she is warm and most importantly, safe. I also love these sleep sacks for every other time of the year when it isn't freezing outside!
Two: Crane Humidifier. Unfortunately, as soon as the weather turned, Grace got a cold. This humidifier was a lifesaver once she fell asleep. I slept easy knowing that the humidifier would thin everything out so she could breathe!
Three: Angel Dear Lovey. Grace literally laughs every time she sees this lovey! Then she immediately puts it her mouth to chew on it. It works wonders when she gets upset around naptime. Throw the lovey in her arms and she is happy as a clam. I am sure that I will regret this later but right now, it works like a charm!
Four: UPPABaby G-Luxe Stroller. This is an amazing umbrella stroller. Super lightweight, easy to maneuver and perfect for quick trips. Love it!
Five: B. One Two Squeeze Blocks. Stack 'em, chew 'em, throw 'em. So many uses for these blocks. We love these at our house!
Six: Sophie the Giraffe. Y'all. I really thought that my child would be the only one on the planet that wasn't obsessed with Sophie. And then six months hit, and G loved Sophie. Like when I say love, I mean that she squeals in delight whenever she sees her. And flips when Sophie squeaks. It is hysterical!
Seven: Bright Starts Activity Ball. Another favorite toy this month!
Eight: Jump and Go Door Jumper. G was obsessed with the door jumper in month six and seven. One week into month eight and she is totally losing serious interest. What used to be a thirty minute activity now lasts ten minutes if I am lucky. But, it was great while it lasted. Plus, you can move it from doorway to doorway and stores easily. Hoping that this is just a phase, and we will be loving this one again very soon.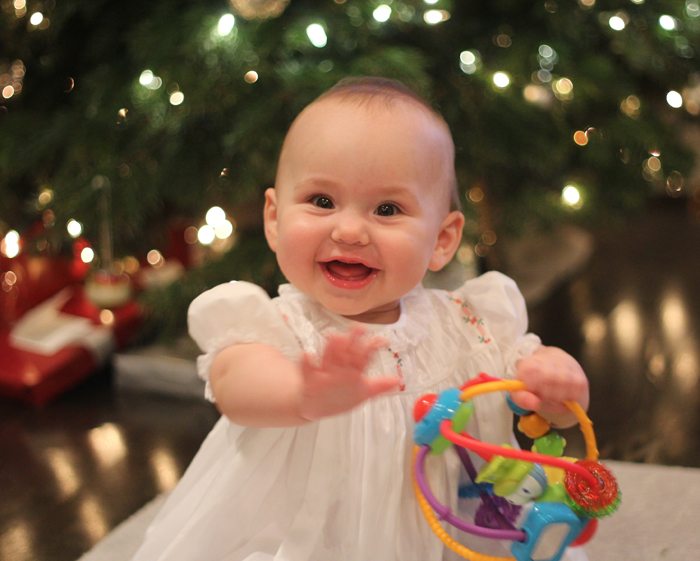 More of G's Seventh Month Favorites: