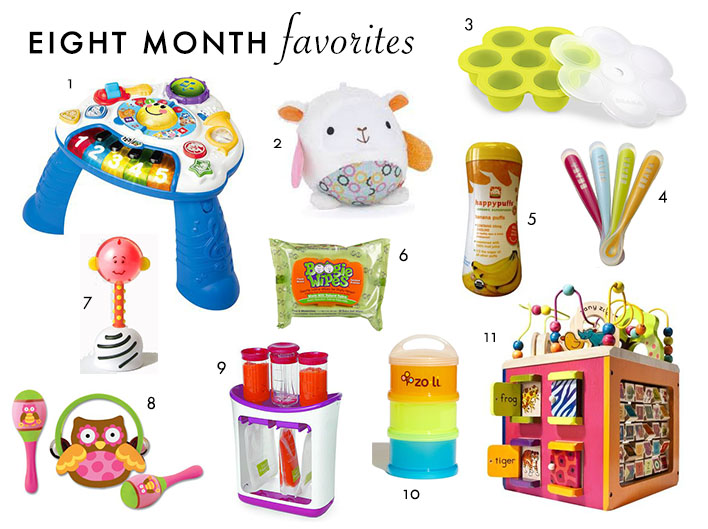 1 Baby Einstein Musical Table // 2 Lamb Chime Ball // 3 Beaba Freezer Tray // 4 Spoons // 5 Puffs // 6 Boogie Wipes // 7 SmartNoggin Stik // 8 Owl Percussion Set // 9 Make Your Own Food Pouches Station // 10 Zoli Snack Container // 11 Zany Zoo Block
The months are going by so fast with Grace. I can't believe that she is almost 9.5 months old! During her eighth month, she learned to crawl and all of a sudden, she was crawling fast. She pulls up on every single thing including my hair – yes you did read that right. She actually pulls hard on my hair to stand up. Ouch. And she said mama and dada even though I am positive that she has no idea what she is saying.
Here are a few of our favorite things from month eight:
1. Baby Einstein Musical Table: G spends hours on this table. She loves to pull herself up and walk around banging on the instruments. We got this late but you can use it when your babies aren't standing because the legs fold down.
2. Lamb Chime Ball: We got this toy in one of the Citrus Lane boxes and love it. G thinks it is so funny when it chimes as she hits it with both hands. She laughs so much at this toy!
3. Beaba Freezer Tray: This has been so useful for freezing perfect portions of baby food. Baby food is so easy to make and super inexpensive when making in bulk. I freeze G's purees in these Beaba trays then pop the frozen cubes in a plastic bag and keep in the freezer. So easy!
4. Beaba Spoons: These are the best baby spoons. They are soft and flexible and I love the pretty colors.
5. Puffs: The first time I fed G a finger food at 6.5 months, she gagged and then threw up. I was so shaken up from the incident that I waited almost two months to give her anything other than a puree. We started with puffs because they are easy for G to grab and dissolve really quickly so I am not stressing about choking.
6. Boogie Wipes: Unfortunately, G had a major cold in her eighth month that was bad. Like two ear infections bad. Anytime I got anywhere near her nose with a cloth or tissue, she would freak. These are great because they are soft and moisturizing plus they are wet so they help get those stuck on boogs.
7. SmartNoggin Stik: This stick is magic. It has a mirror on the bottom, rattles, and changes colors.
8. Owl Percussion Set: Maracas and a tambourine round out this cute percussion set.
9. Infantino Squeeze Station: Another favorite food storage system, this squeeze station makes it super easy to make your own food pouches. I make several of these, pop them in the freezer, and then pull them out to use when we take G to dinner with us or on the plane. You can warm in a cup of hot water.
10. Zoli Snack/Formula Container: I love this snack container because you can put several different kinds of snacks in the different compartments. The best part of this one is that the top can be used for formula powder. It has a pour spout that makes it super easy to get the formula into the bottle without a scoop!
11. Zany Zoo Block: Another favorite activity center for G. She loves this block, and I love a cute wood toy.