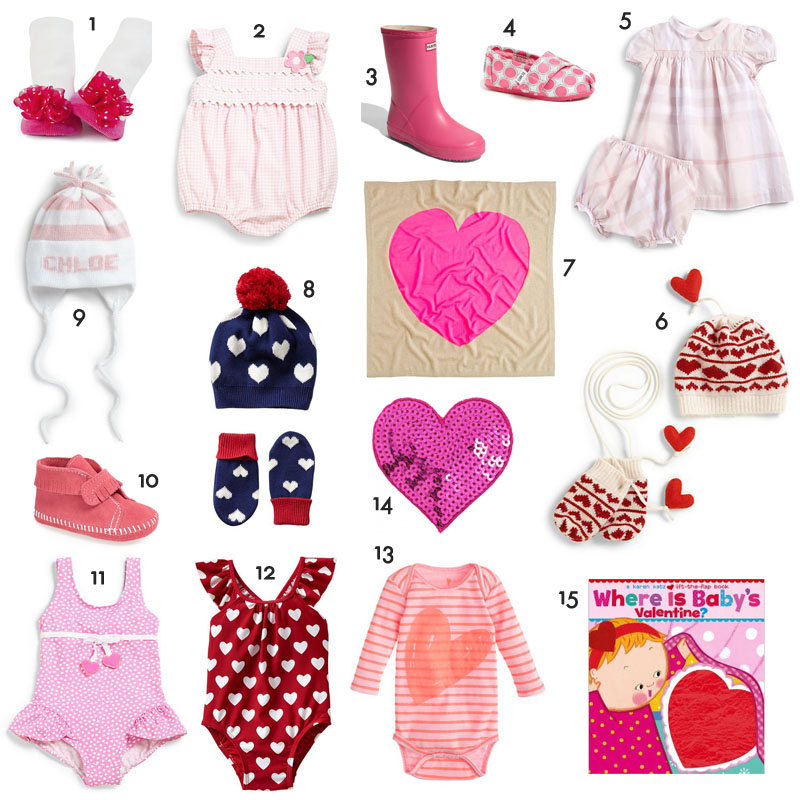 1 Socks // 2 Pink Gingham Bubble // 3 Baby Hunter Boots (!) // 4 Pink Sparkly TOMS // 5 Burberry Dress // 6 Heart Hat and Mittens // 7 Heart Blanket // 8 Navy Heart Hat and Mittens // 9 Monogrammed Hat // 10 Pink Minnetonkas // 11 Pink Dots + Heart Suit // 12 Red Heart Suit // 13 Heart Striped Onesie // 14 Ban.do Heart // 15 Valentine's Book
We love a holiday over here, and the countdown to Valentine's Day is officially on. Now that G is here, holidays are even more fun to celebrate. I've gathered a few of my favorite Valentine inspired baby goodies for your viewing pleasure. And the good news is that many of these items can be worn year round.
Grace starts her very first swim class tomorrow, so of course, this heart suit was absolutely necessary. And honestly, there is not much that is cuter than baby Hunters, baby Minnetonkas, or baby TOMS. There are tons of precious Valentine's baby books. Our favorites right now are this and this.
Check out my Valentine's Day Pinterest Board for more Valentine's themed fun.
More Valentine's Goodies for Your Little One: