I hope that everyone isn't already over pumpkin recipes because I have the best one. Yep. Delicious, cinnamon-spiked pumpkin cake covered in cream cheese frosting. I'm sorry that I have been sitting on this one for weeks. I've been meaning to post the recipe but have no excuse. In all honesty, I made this in the middle of September and again at the beginning of October. Oh, and again at the end of October. I've been so busy eating pumpkin bars that I clearly have had no time to post the recipe!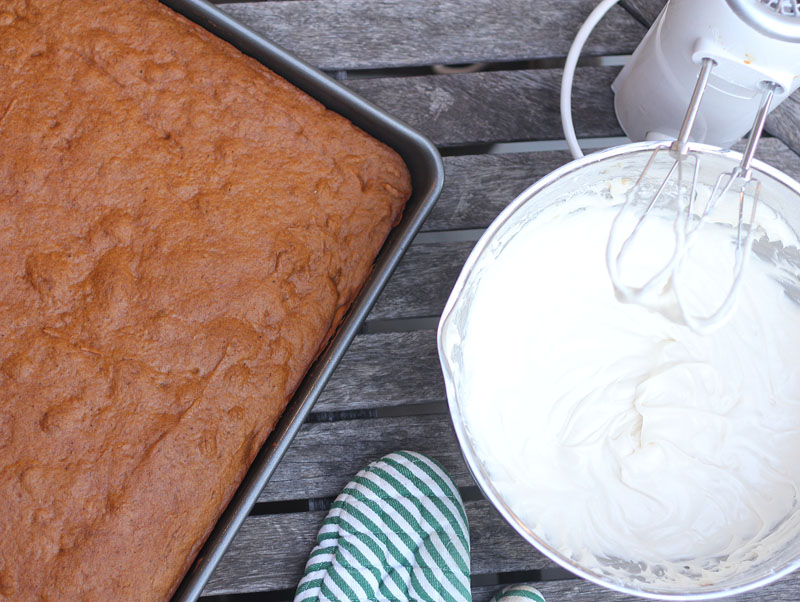 I've made a lot of pumpkin recipes this fall much to my husband's dismay. He claims he isn't a fan of pumpkin but continues to "try" recipes over and over again. The so-called pumpkin haters in my house have not deterred me from making many pumpkin treats. I've made chocolate chip pumpkin bread and roasted butternut squash orrechiette. There's been pumpkin cornbread (recipe coming soon) and pumpkin cinnamon rolls. And I have an entire pinterest board dedicated to Fall (read: pumpkin) recipes.
But these bars have been a favorite and I know they will be a favorite in your house, too. On my list this weekend: Molten Chocolate Pumpkin Oatmeal Streusel Bread which will be the perfect cold weather treat!
Oh, and guess what? Plum Pie now has its very own instagram that will soon be filled with lots of yummy food pics and a few cute baby pics too. Follow me here.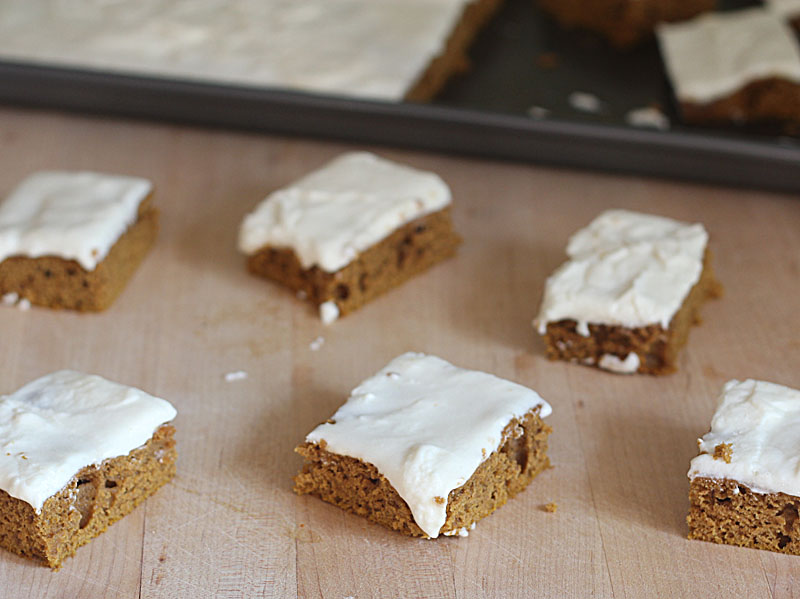 Spiced Pumpkin Bars with Cream Cheese Frosting
3/4 cup butter, melted
1/2 cup white sugar
1/2 cup dark brown sugar
1/2 cup greek yogurt
2 cup pumpkin puree
3 eggs
1 1/4 cup flour
3/4 cup whole wheat pastry flour
2 tsp baking soda
1 tsp cinnamon
1/2 tsp salt
1/2 tsp ginger
1/2 tsp ground cloves
1/2 tsp allspice
1/4 tsp nutmeg
1 tsp vanilla
Cream Cheese Frosting
1 8-ounce block of cream cheese, at room temperature
1 stick of unsalted butter, at room temperature
3.5-4 cups of powdered sugar
2 teaspoons vanilla
1 tablespoon of milk
Preheat oven to 350°. Spray a jelly roll pan (looks like a cookie sheet with edges that are about an inch or two high) with nonstick cooking spray and set aside.
In a medium bowl, whisk together all of the dry ingredients – flour through nutmeg above. In a separate bowl, combine the sugar, melted butter, and pumpkin puree. Mix on medium-low for about 3-5 minutes until thoroughly combined. Add eggs, one at a time, until combined. Add vanilla and mix until barely combined.
Slowly add in dry ingredients in two batches. Mix well until combined but be careful not to overmix. Spread the mixture evenly in the jelly roll pan.
Bake for 15-20 minutes until a tester comes out of the middle clean. Remove and cool. While bars are cooling make the frosting.
For the frosting:
Beat cream cheese and butter together on high until well mixed, about 3 minutes. Slowly add the powdered sugar, about one cup at a time. Beat on medium until light and fluffy. Add vanilla and mix until combined.
If your icing is too sugary or thick, add a tablespoon of milk to thin out. You want a thick icing so don't go overboard with the milk!