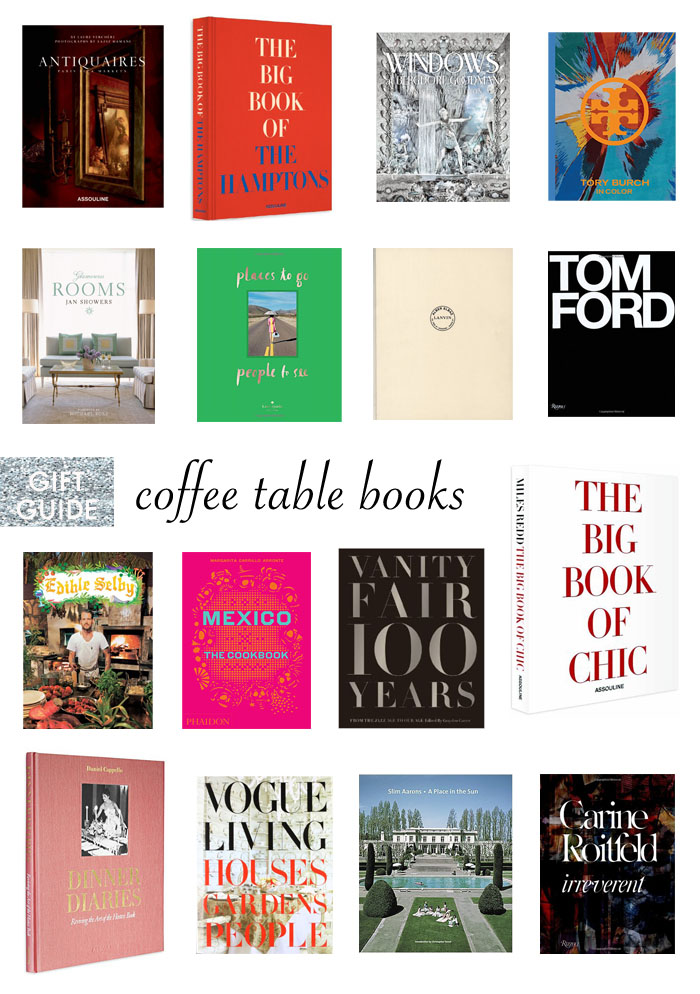 Row One: Antiquaires // The Big Book of the Hamptons // Windows at Bergdorf Goodman // Tory Burch in Color
Row Two: Glamorous Rooms // Places to Go, People to See // Lanvin // Tom Ford
Row Three: Edible Selby // Mexico: The Cookbook // Vanity Fair: 100 Years // The Big Book of Chic
Row Four: Dinner Diaries // Vogue Living: Houses, Gardens, People // Slim Aarons: A Place in the Sun // Carine Roitfeld: Irreverent
One of my favorite gifts to give (and to receive) is a beautiful coffee table book! They bring interest and color to a room and provide endless hours of entertainment and inspiration. From the art lover to the foodie to the fashionista, there is something for everyone on your list! I have included a few of my favorites above and a few that are on my wish list, too!
Looking for more gifting inspiration? Check out my Pinterest board dedicated to gifts, my Wish List, and my other Gift Guides:
2014 Gift Guide for the Entertainer
2013 Gift Guide for the Foodie
2013 Gift Guide for the New Mom or Mom to Be
2013 Stocking Stuffers Under $100
2013 Gift Guide for the Hostess
And a few more coffee table books to peruse: