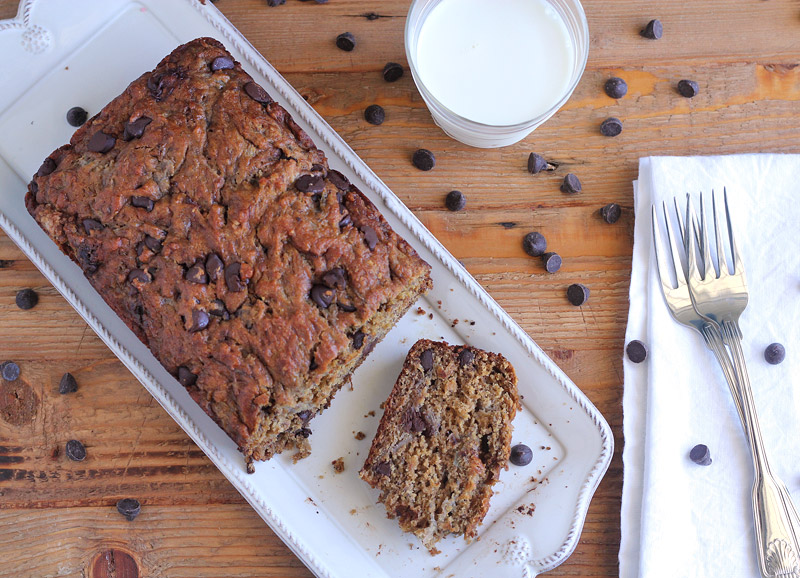 This bread has been on constant rotation around our house lately. It is delicious (especially right out of the oven) and it is pretty healthy so I feel good about eating it, too. I have always found baking to be really therapeutic, and I seem to have a major baking itch lately. January has called for some serious comfort food and therapy in the form of baking it seems.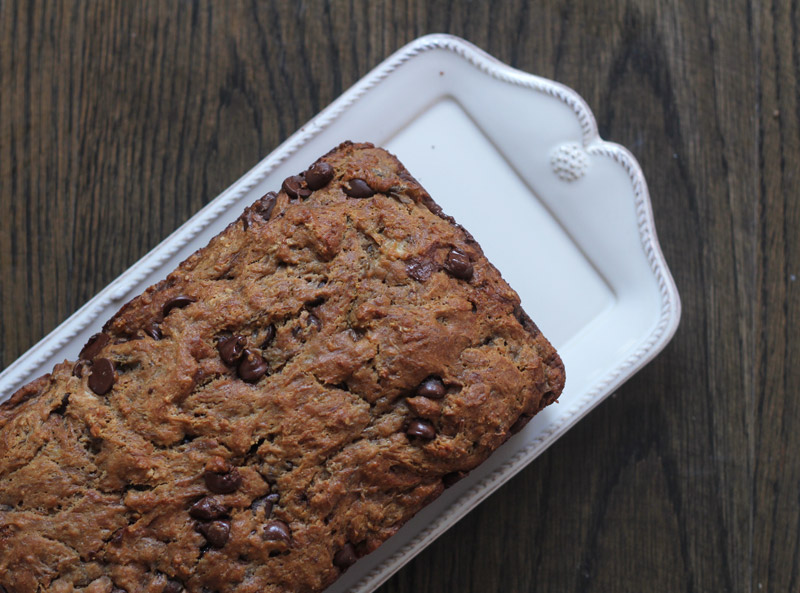 Andrew the H claims to not like banana bread but if you load anything up with chocolate chunks then it can persuade even the strictest banana bread hater. This has been proven time and time again. Oh, and did I mention that this is a toddler favorite? Some of you may not believe in feeding your toddler chocolate but life is short! Gracie absolutely loved this bread for breakfast. She kept saying "More cake, more cake pwease." Oops. Hopefully I am not creating any bad habits over here but in all honesty, if I don't pawn off pieces of this bread then I will eat the entire thing!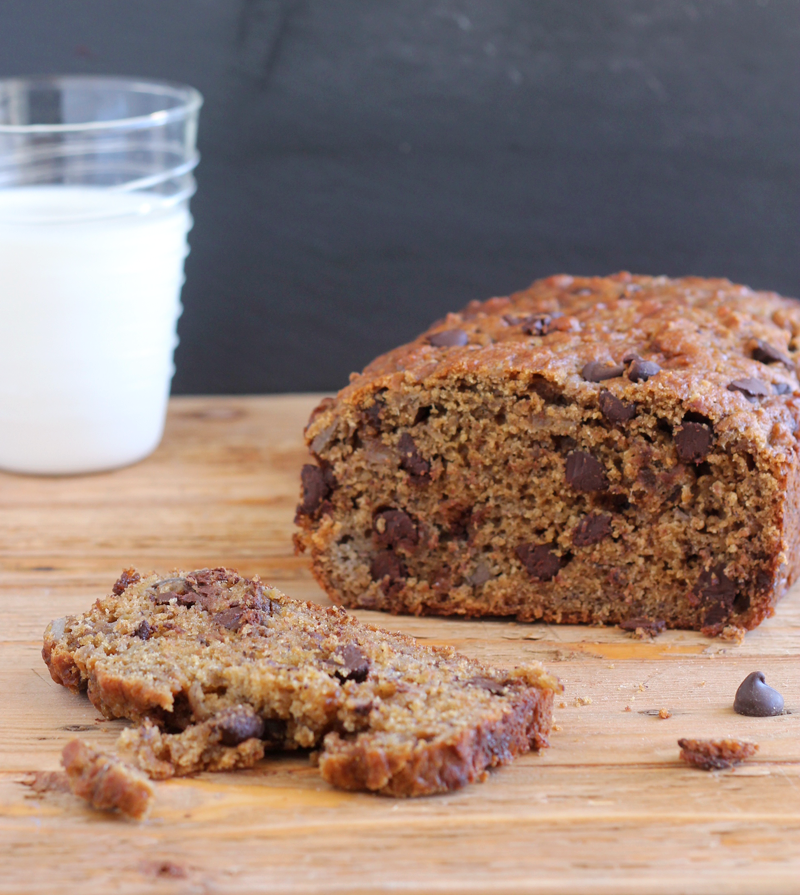 Roasting the bananas with maple syrup makes them super sweet and almost caramelized while the coconut oil/greek yogurt combo makes for a super moist bread. Even though you are roasting the bananas, make sure that the ones you are using are ripe, ripe, ripe. This really is pretty critical. You can leave out the dark chocolate chunks but really, why would you? Make this for your sweetie for Valentine's Day!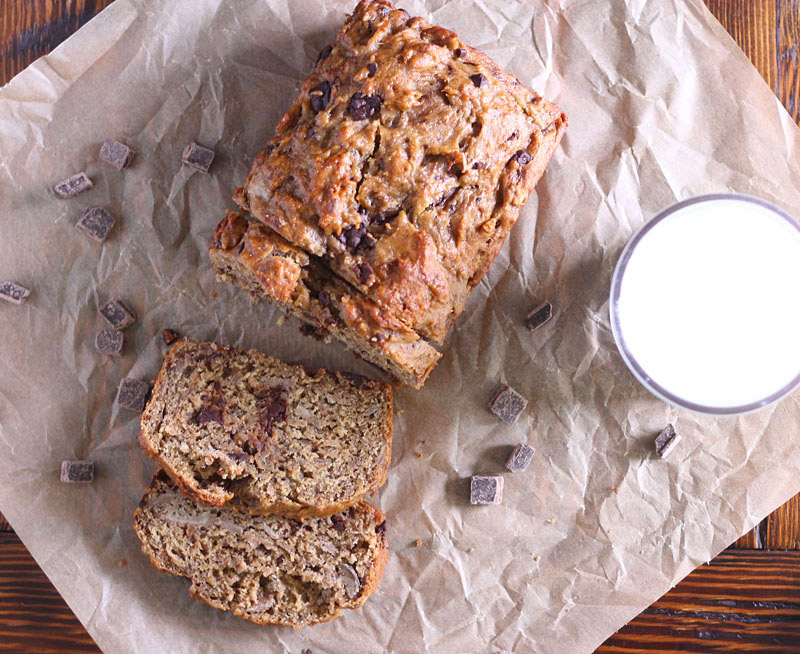 Roasted Banana + Dark Chocolate Chunk Bread

5 ripe bananas
1 Tablespoon maple syrup (can use honey)
1/4 teaspoon cinnamon
1.5 cups whole wheat pastry flour
1/2 cup all-purpose flour
1/2 teaspoon salt
1/2 teaspoon cinnamon
1 teaspoon baking powder
1 teaspoon baking soda
2 eggs
1/2 cup dark brown sugar
1/2 cup greek yogurt (full fat)
1/2 cup melted coconut oil
1.5 teaspoons vanilla
1/4-1/2 cup dark chocolate chunks
Preheat oven to 400°. Peel bananas and place on a sheet pan lined with parchment paper. Brush (or drizzle) bananas with maple syrup and sprinkle with 1/4 teaspoon of cinnamon. Roast in oven for 20-25 minutes until bananas are golden and caramelized. Let bananas cool until you can handle them. Mash bananas.
Reduce oven to 350°.
Whisk together dry ingredients in a bowl: whole wheat flour, all-purpose flour, cinnamon, salt, baking soda, baking powder, salt, and cinnamon.
In another bowl, mix together eggs and brown sugar until smooth. Add greek yogurt, coconut oil, and vanilla. Stir to combine. Add cooled bananas.
Mix wet ingredients into dry ingredients and stir with a wooden spoon until just combined. Do not overmix. Gently fold in dark chocolate chunks.
Bake for 45-55 minutes until a tester comes out clean. If the top of your bread starts to brown too much, cover with foil. Enjoy!